Mobile Journalism Course Campus license.
Are you looking for education pricing on an up-to-date Mobile Journalism Course?
Multimedia tutorial library for smartphone video storytelling and mobile journalism.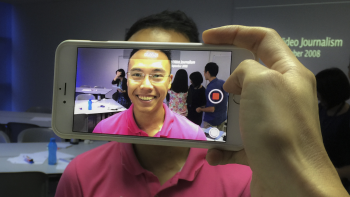 This Mobile Journalism course pack is used by students and faculty at journalism schools in many countries under a campus license.
It features features an extensive video library with case studies, story examples, step-by-step app demonstrations, exercises, reading, and project assignments.
It is a rich academic resource that is designed to help busy professors lead students on a video storytelling journey for an entire semester. From setting up the camera to making a mini-documentary film.
You can get this course pack for one instructor's classroom or for the entire campus.
If you are a professor teaching Mobile Journalism, you can request a quote for a classroom license subscription or simply ask your university librarian to order this course as a campus license.
Please write to robb@smartfilmschool.com to discuss your needs.
Proudly serving: